At the age of two, Stephanie's mom left her to be raised by her single father who was in the military. She did not have a relationship with her birth mother until she was expelled from high school for behavioral issues and moved across the country to live with her. Stephanie went from living with a strict parent to one who had never been a parent and didn't have rules. At 19, after ending a long-term relationship, Stephanie discovered she was pregnant from a brief rebound relationship.
The baby's father wanted her to terminate the pregnancy. Distant relatives in Kentucky offered to help, so she moved to a new city with people she barely knew. They pushed her to choose adoption. Adamant about parenting her unborn child, her relatives said "We don't know how to help you" and brought her to Lifehouse. Feeling abandoned and confused, Stephanie did not like life at Lifehouse. She had become accustomed to having no rules or responsibilities, and the transition was hard.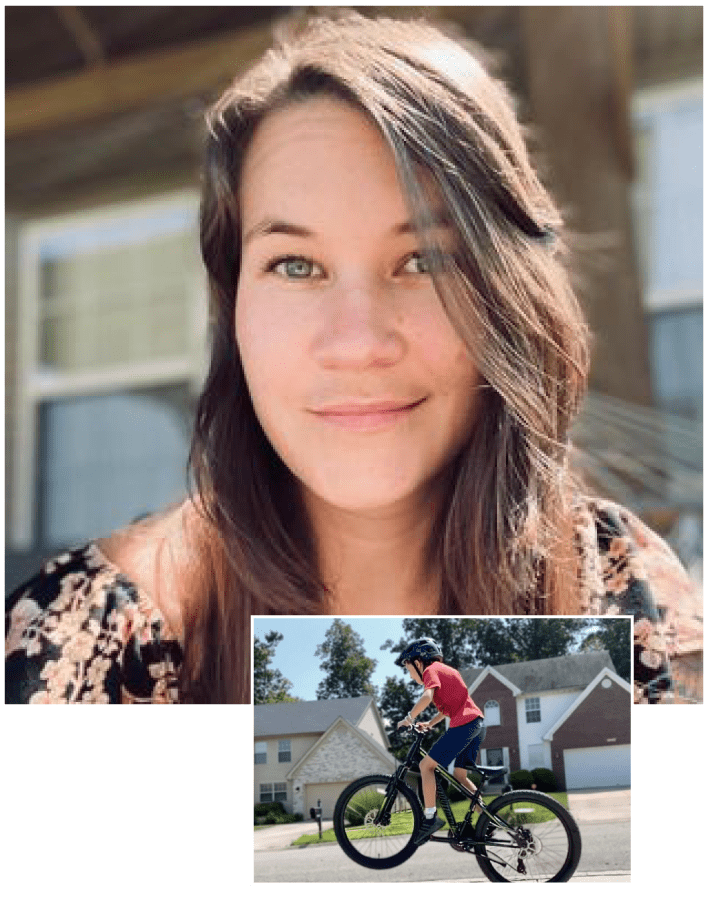 In hindsight, eleven years later, Stephanie recognizes her time at Lifehouse as a pivotal moment in her life. She had a safe place to live and caring House Moms to help learn to care for a colicky newborn. Although it did not take root immediately, a seed for her true faith was planted and she renewed her Baptism in 2016. She met her longtime best friend and her son's Godmother at Lifehouse. Most importantly she found acceptance and the push she needed to stand on her own two feet. The staff informed her about her options of adoption and parenting, and when she expressed her determination to parent, Lifehouse encouraged her decision by responding, "You can do it and we can show you how."
Since leaving Lifehouse, Stephanie earned her Bachelor of Science degree from U of L. Her son is now in the 5th grade, loves to read, ride his bike, and wants to compete in the X Games someday. He says his favorite thing about his mom is "She's smart." Today, Stephanie has a wonderful relationship with her Dad and (step) Mom. She is grateful for all the opportunities Lifehouse provided for her and her son's future. Thanks to Lifehouse supporters like you, many women like Stephanie are able to find a safe haven where they are not forced to make decisions that are not their own. They are able to find acceptance and are encouraged to pursue a wonderful future for themselves and their child.
Hello,
The goal of Lifehouse is to help heal the entire family; starting with the woman in crisis, continuing with her child, and then mending the brokenness within the extended family.
With your support and God's help, we witness a resident and her
family transition from simply surviving to thriving!
Lifehouse will survive 2020…but our goal in 2021 is to THRIVE and that cannot happen without the support of you, our faithful partner in ministry. You can make thriving possible as a "Lifesaver for Lifehouse" with your monthly sustainability pledge.
Your monthly gift of $100, $50, $25, or any other amount will help provide a home for moms and babies, transform lives, and share the love of Jesus with women who are lost and hurting.
If you are already a monthly donor, prayerfully consider if you are able to increase your gift. If you prefer to give a one-time gift, we are grateful for your support of any amount.
Monthly gifts of $111 or more and one-time gifts of $1,332 or more will make you apart of the Lifehouse 365 Circle of supporters pledging $3.65 or more per day to Lifehouse.
For residents, Lifehouse is for life. Whether they are here four minutes or four years, we will always be a lifeline to help them with resources, a listening ear, or necessities such as food and diapers. Your lifesaving gift helps us maintain that life-long connection and impacts the lives of women and children like Stephanie and her son. Please prayerfully ask for God's direction in making your gift to Lifehouse.
Thank you for your prayers and your generosity. May God's light continue to shine on you and your family.
Blessings,

Dolli Neikirk, Executive Director
P.S.  Thank you for stepping in and stepping up to ensure Lifehouse can continue to offer hope, help and a home for women and babies in crisis.
The CARES Act allows for a $300 above-the-line tax break for charitable donations in 2020. Please consult your tax advisor for further information.
"They asked you for life, and you gave it to them – length of days, for ever and ever."
Psalm 21:4
"Lifehouse gave me the push I needed.
They encouraged me to know that I can do this, I am strong.
It was a safe place to call home after the birth of my son."
– Stephanie
Thank you for being our lifeline!