Marlee grew up as the daughter of a single mom.
While her mom worked, Marlee was cared for by her older sister. She went to a good school, but fell into a party lifestyle and the "wrong" crowd.
After graduation, Marlee's mom moved to Louisville from Buffalo, and Marlee followed her at age 19, with the hope of getting away from the party scene and friends.
Marlee found a group of friends in Louisville, but they were living the same party lifestyle she had escaped in Buffalo. She continued doing drugs, falling deeper into addiction. Her mom tried everything she could to help, but eventually had to use tough love and break off regular contact. Marlee eventually married one of her party companions. She became pregnant, but was still using. Her husband was abusive, and tried to harm the baby while Marlee was pregnant. Marlee's mother-in-law found Lifehouse in hopes that she could get away from her abusive husband. Our program requires active drug users to seek in-patient treatment before coming to Lifehouse, so Marlee found a 30-day program and got clean.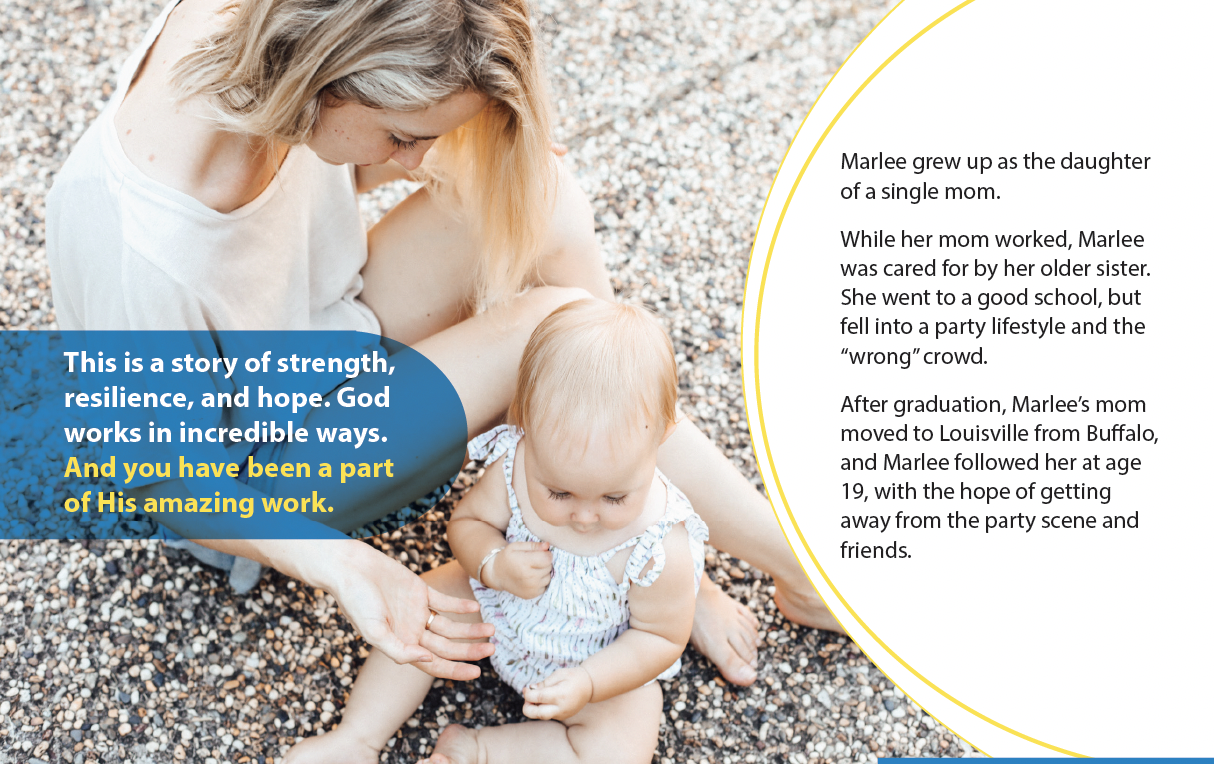 Marlee says, "At Lifehouse things finally started going right. There were so many people there to help me. I found the unconditional love and acceptance I never had, and I finally felt safe. When I tried rehab before, I didn't have God. I realized that if this is how people who believe in God act, then I want what they have. I have people cheering for me every day. I know my past doesn't define me, and God forgives me. I finally have the peace and happiness I was chasing with drugs. I now have joy."
"If you have a void in your life, you will try to fill it with the wrong guy or drugs. You should never lower your standards for anyone." Marlee shares with new residents her story and about adjustment to the Lifehouse routine. She admits it was hard, but looking back she knows that everything has a purpose to help a resident change their life.
Lifehouse helps residents improve and heal family relationships, by connecting residents with counseling and educational programming specifically for mending relationships. Marlee has reconciled her relationship with her mom, who moved back to Buffalo after eight years in Louisville. They visit one another a couple times a year. She recalled when she called her mom for the first time.
"Mom told me later that she had been thinking about me while driving home one day. It made her sad, so she pulled over because she was crying. That was the moment I called her. It is bittersweet now knowing we lost so much time, but we are both so happy to reconnect. And we are so happy she gets to be a part of her granddaughter's life."
Marlee now lives with Layla in one of the Lifehouse transitional apartments. She has a good job in management for a local fast-casual restaurant, and is saving for a down payment on a home.
"I love my job! My supervisors like me. A few years ago, I never would have imagined I would be a key holder for the restaurant and supervise a couple dozen employees."
Marlee's daughter Layla is healthy, happy, and knows she is loved. Layla loves church and dancing with the praise team. Marlee adds, "I have the twenty staff members at Lifehouse that have my back. My worst day at Lifehouse was a thousand times better than any day I had when I was high. In my heart I know Lifehouse saved my life and saved Layla's life."
Hello,
The goal of Lifehouse is to help heal the entire family; starting with the woman in crisis, continuing with her child, and then mending the brokenness within the extended family.
Your monthly gift of $100, $50, $25, or any other amount will help provide a home for moms and babies, transform lives, and share the love of Jesus with women who are lost and hurting.
If you are already a monthly donor, prayerfully consider if you are able to increase your gift. If you prefer to give a one-time gift, we are grateful for your support of any amount.
Monthly gifts of $111 or more and one-time gifts of $1,332 or more will make you a part of the Lifehouse 365 Circle of supporters pledging $3.65 or more per day to Lifehouse.
Thank you for your prayers and your generosity. May God's light continue to shine on you and your family.
Blessings,

Dolli Neikirk, Executive Director
P.S.  Thank you for stepping in and stepping up to ensure Lifehouse can continue to offer hope, help and a home for women and babies in crisis.
The CARES Act allows for a $300 above-the-line tax break for charitable donations in 2020. Please consult your tax advisor for further information.
"They asked you for life, and you gave it to them – length of days, for ever and ever."
Psalm 21:4